Description
Magnetic Cable Clip
The Adept Direct Cable Clip is an inexpensive, lightweight magnetic bracket for hanging power leads and cables. These innovative cable clips are very easy to use as they are magnetic and can quickly attach to all steel surfaces including steel garages, sheds, Colourbond fencing, purlins, steel columns, galvanised framing, steel bed frames etc.
Adept Magnetic Cable Clips have used for a huge variety of applications: From attaching water hoses on an excavator to reduce dust through to securing cables and power leads on hospital beds! The plastic cable clip is non-conductive and is simply opened to allow 2 or 3 power leads or welding cables to be secured. The plastic clip then springs back to ensure the cables do not lift out even if flicked or pulled.
The key reason magnetic cable hangers and clips are so effective in securing leads and cables in workshops and on building sites, lies in the fact that they are so simple to clip into position and use! Change the area where you're using power tools or electrical appliances and the magnetic hangers can be quickly detached and moved. Magnetic Cable Clips help in meeting WHS obligations by providing staff with a simple tool to keep work and floor areas clear and power leads out of harms way. Magnet cable clips require no tools and will adhere to any steel facade or metal surface. 
Features of Adept Direct Magnet Cable Clip include:
Safely holds 2 or 3 electrical leads and cables

Robust Zinc plated magnet.

High visibility cable clip is available in bright red or yellow plastic

Supports up to 5kg vertically. 

Cable clip dimensions: 30mm wide x 120mm high x 40mm deep

Nett Weight: 75 grams 
Order cable clips online by clicking the button above or email an order to [email protected].
Need a Magnetic Cable Hanger that will hold much heavimailto:[email protected] cable or leads, up to 25 kg? Try the Adept Heavy Duty Magnetic Cable Hanger?
Need to hang cables up and don't have any steel structure to use a magnetic hanger? Try the Adept Screwed Cable Hanger Bracket
Lift Clip to slide cable, hose or lead into the Cable Holder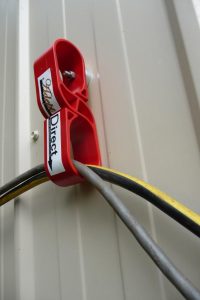 Magnet Cable Clip – Adeptdirect
Hospital Bed Power Lead Holder.
Cable held in top clip and Air Hose held in lower clip
Hygienic Cable Holder for Hospital Trolleys – Adept Direct
Power Lead Brackets for Sheds and Steel Buildings – www.adeptdirect.com.au