$249.70 + GST 10%
Height: 500mm
Width: 1000mm
See the Adept Mobile Cable Drum Stand in action!
Description
Portable Cable Drum Pay-Off Stand
The Adept Wheeled Heavy Duty Cable Roll Stand is our most popular cable pay-off stand – now available with wheels. It is supplied complete with long-lasting powder-coated 'safety' yellow support frames, galvanized steel axle and large pneumatic tyres. The large diameter tyres allow the Mobile Cable Pay-Off Stand to traverse most terrain including rough construction areas, solar farms and mine sites.
The A shaped frames of the mobile cable drum stand, can be locked into position on the axle thumb-screws, once the cable reels are in position (see video). This locking feature also allows for quick dismantling for transporting or storage, when cable installations are complete . With the non-wheeled A-Frame locked into position 150mm (6″) in from the end of the axle, the Adept Portable Pay-Off Cable Stand provides a convenient and easy means for one person to wheel rolls of cable around a building site or construction zone. 

This versatile mobile cable drum support has capacity for multiple rolls of cable to be payed-out at the same time. With the exception of the Light Duty Folding Cable Drum Stand Adept cable drum supports are designed and manufactured in Australia using Australian steel. The  maximum Cable Roll size is 1000mm (40″) wide with a  safe working load of 120kg (265lb).
Whilst the Mobile Cable Stand has been designed for transporting and paying out drums of cable they have also been used for paying out all sorts of products and materials that are supplied on a reel or drum including; Unrolling Fencing Wire, Reeling Out Chain, Dispensing Rope, Unrolling Irrigation Hose etc.
Buy online by clicking the button above or email a Purchase Order to [email protected]
Don't require a Cable Drum Pay-Off Stand with wheels? Try the Adept Heavy Duty A-Frame Cable Drum Stand
Read our blog on: Is it best to use a Cable Drum Roller or a Cable Drum Stand?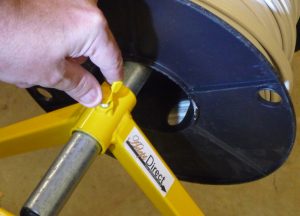 Easy-to-use thumbscrews secure the A-Frames to the axle, supporting the cable drum.
Portable Cable Reel Stand – Adeptdirect.com.au
Cable Drum Stand with Wheels – Adeptdirect
Cable Drum Stand dismantled for transport.